INDIFFERENCE IN YOUR BOARDROOM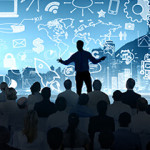 Inaction is often seen as the worst danger for a board of directors. But there is a far more toxic problem—indifference. Worse than inaction, indifference about the role of and need for succession planning has been the norm in banking for too long.
Succession planning for the board is even rarer than thorough succession planning for the executive team. Regulators aren't letting it slide anymore. They understand the critical importance of solid board succession planning for the health and governance of the bank.
Board succession and development plans are being requested by regulators in the same breath as the request to see the CEO succession plan and the current strategic plan.
Examiners are finally taking notice that the strategic thought leaders at our institutions are retiring, and the enterprise risk associated with this massive turnover could be staggering to our industry.
It is estimated that 35% of your directors will retire in the next 3 years. That's 1 in 3!
Look around the board table. What trend are you seeing? I have clients who are dealing with over 50% approaching retirement age in 2-3 years.
The effectiveness of any board can be severely diminished, if not completely undermined, when not correctly in alignment with natural attrition and new placements.
Board of directors enterprise risk is affecting institutions across the country.
Like many positions in your bank, boards are not exempt from being part of the retirement crisis. High-performing banks have high-performing directors. High-performing directors have experience, longevity, commitment, and expertise that are highly valuable to your bank. This is not easy to replace—especially when you have multiple directors rolling off within a short period of time.
High-performing boards aren't built in a day.
When asked how long it took them to feel that they were truly participating and adding value to the institution, the average director said 2-3 years. That 2-3 year period is critical to a high-performing board. Most directors aren't experts in banking; they are experts in their fields and true community leaders.
Their learning curve can be steep, pushing out the timeframe in which the board is truly at full capacity.
The job of "director" is becoming increasingly complicated and risky. The position carries with it awesome responsibilities. Those charged with the oversight and strategic support of a bank in a director role should advance and promote the mission and purpose for which the bank was organized. They must have the ability, willingness, and enthusiasm to lead.
A bank board position was once a coveted role with many capable and energetic candidates available. The pool of potential directors isn't as deep as it used to be even 10 years ago.
This much-needed enterprise-risk perspective too often hangs in the periphery. The question is not just about how many are needed, but more importantly, what risks will arise in association with the substantial loss of key governance members?
The effectiveness and productivity of your board can be seriously derailed if a director's expertise and experience is not accounted for. The process of succession planning is the exact platform for solidly knowing your directors' strengths, how those strengths match the roles they fulfill, and most importantly, how to plan for a seamless transition when the time comes.
There is no grace period for board performance—it must be of the highest caliber at all times.
The hidden benefit of proper board succession planning is discussing, developing, and documenting your expectations for board performance. It gives you the opportunity to strategically map out the rules of engagement in the boardroom. It also gives directors (new and seasoned) a much needed "job description" to ensure they are performing at their best as a board.
A deliberate, committed process that is born out of your strategic plan prevents knee-jerk board appointments. It, instead, honors the hard work of your current board's vision and the communities you serve.
Together, your board should create the image of the bank you want to be. Indifference about that, now or ever, is a threat to your legacy.